For Homeowners
Oilheat Equipment | Upgrading Your System | Conservation Tips | FAQs | Consumer Programs
Using an Oilheat Dealer
Here are just a few of the many benefits of using a local Ohio Oilheat dealer: 
When you call, you're speaking to neighbors who will treat you like family
You are not forced to use a state-wide utility for service and delivery
You have your choice of dealers, who are all competing for your business
Your Oilheat dealer can provide service and maintenance contracts, budget plans, pricing programs and automatic delivery services
Your local Oilheat dealer knows your system and your needs
Your hometown Oilheat dealer can recommend the right high-efficiency replacement unit for your home
With all of these options available, it can be hard to determine where to start. A good place would be this very website. Keep reading this section to find out more about the Oilheated home, and talk to an Ohio Oilheat dealer about any of these services:
Automatic or will-call delivery
Oilheat equipment service plans and preventive maintenance
Oilheat system installations, upgrades and replacements
Oil storage tank evaluations and protection programs
Low-sulfur heating oil and Bioheat® fuel blends
Budget plans, price protection programs and other payment options
Click here to find an Ohio Oilheat dealer near you. 
Oilheat Equipment
The Oilheat industry is always hard at work to create extremely efficient heating equipment for homes. Modern boilers and furnaces have high Annual Fuel Utilization Efficiencies (AFUE), burners have high efficiency levels, and water haters have high recovery rates.

As a result, many modern Oilheat systems receive the EPA's ENERGY STAR® rating, which designates that a system achieves high energy efficiency without sacrificing performance. Thanks to improved features such as new combustion technologies, ENERGY STAR®-qualified oil boilers are approximately 10 percent more efficient, and oil furnaces approximately 15 percent more efficient than standard models.
Following are brief explanations of some of the Oilheat equipment options available to you.
Furnaces
Today's oil furnaces have AFUEs as high as 95 percent and provide:
Improved heat transfer with low-mass combustion chambers and sophisticated heat exchangers 
Clean, efficient comfort because of high-pressure flame retention burners 
Reliable operation with solid-state or microprocessor-based controls
Burners
The flame retention burner was developed in the 1960s and has helped reduce emission levels of oil-fired heating systems to near zero. Compared with older burners, the flame retention burner has many benefits, including cleaner burning and the production of a hotter flame.
Steam Boilers
In a steam system, the boiler heats water that evaporates and moves through the radiators to heat the home.
Hydronic Boilers
In a hot water (hydronic) boiler system, heated water from the boiler is pumped by a circulator through radiators, radiant tubing or baseboards. Dividing the system into separate heating areas (zones) of the home is easily accomplished with a hydronic system.
Condensing Boilers
The condensing, oil-fired warm air boiler is a new innovation in Oilheat technology, which features two heat exchangers. This type of boiler is extremely efficient because it lowers the stack temperature to the point where the steam in the flue gases turns back into water.
The age of your boiler has a hand in determining its efficiency. Older boilers have efficiency ratings in the mid-60 percent range. New boilers, however, have efficiency ratings from 81-92 percent!
Water Heaters
Among the many benefits of Oilheat is that it is a reliable, inexpensive and efficient way to heat water. Homeowners with oil-fired water heaters have access to virtually unlimited amounts of hot water. Oil-fired water heaters have high recovery rates, meaning they can heat large amounts of water quickly. Plus, there are various types of oil-fired water heaters to choose from, including indirect-fired, direct-fired, aqua booster and tankless coil water heating options.
Upgrading Your System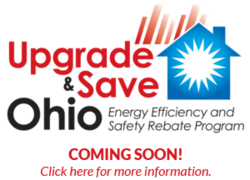 Is your furnace or boiler 25 years old or older? If it is, you may want to consider a heating system upgrade. Besides making your home extremely warm and cozy, an upgrade will also increase its value.
Recent innovations in Oilheating equipment include two-stage burners, self-diagnostic and monitoring equipment, electronic ignition and low-mass boilers. New equipment boasts efficiencies as high as 95 percent (compare that with the 60 percent average efficiencies of Oilheat equipment back in the '70s). 
You might be wondering if it makes economical sense to upgrade ... and the answer? Yes!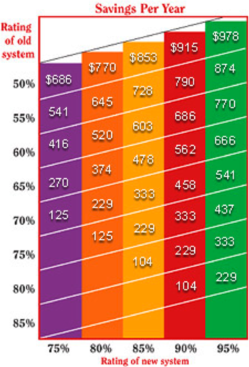 This chart will help you determine the annual savings that you would receive if you upgrade from an inefficient Oilheat system to a high-efficiency Oilheat system.
Higher AFUE isn't the only predictor of energy savings. Using a digital tool known as the Fuel Savings Analysis (FSA) Calculator, a full-service Ohio Oilheat dealer can provide you with a detailed look at the savings potential of a new oil-fired boiler or furnace. The FSA Calculator even allows you to compare multiple new models in order to determine which one is right for your home's size, design and budget. 
The payback for the installation of a new boiler or furnace is between 3 to 6 years. With a short payback, and the knowledge that a new boiler or furnace will save you money and use less energy, you can be sure that upgrading benefits your budget, home and environment!
So take the first step toward increased comfort and higher property value and upgrade today!
Conservation Tips
"Conservation" has become a key word these days. And with the average Ohioan spending as much as $137,500* to buy a home, it is more important than ever to practice conservation. Here are some easy — and in some cases, free — tips to lower your energy bills. When you see how much you'll save, you'll want to share them with all your friends.
*Zillow, November 2016.
Year-Round Conservation Tips
Install a programmable thermostat

 that, when used properly, can shave $100 off your annual energy bill. 

Choose a high-efficiency dishwasher

 — it uses 25 percent less energy than a conventional model. 

Install dimmers and motion sensors

 wherever possible. 

Install water-conserving fixtures

, such as showerheads, faucets and toilets. 

Keep your oven door closed!

 Every time you open the oven door, the oven temperature can drop 25 degrees. Use the oven light or a timer to avoid wasting energy. 

Repair and weatherize

 your storm windows. 

Take showers instead of baths

. A five-minute shower will use about 7.5 gallons of hot water; filling a bathtub can use up to 20 gallons. 

Use compact fluorescent lights

. They last up to 10-13 times longer than standard bulbs and use 75 percent less energy. 

Wash clothes in the coolest water possible

. 80 percent of the cost to run your washer is used for heating the water. 

When purchasing new appliances

, look for the ENERGY STAR® label. The ENERGY STAR® rating program, developed through a partnership between the EPA and the U.S. Department of Energy in 1996, indicates which appliances are considered energy efficient and environmentally friendly.
Cold Weather Conservation Tips
Check your threshold for any gaps between it and the door

. Use a bottom seal that can be attached to the bottom of the door — it should brush up against the floor to seal up the threshold. It virtually stops drafts. 

Correct air leaks around windows

, doors and electrical outlets. 

Install glass doors on the fireplace

 for added insulation and reduced heat loss. 

Keep ductwork in good repair

 with duct tape or duct insulation. Your home could be losing up to 25 percent of its hot air before it reaches the vents! 
Make sure 

rugs and furniture don't block

 the air circulation from baseboard outlets. 
Make sure your ceiling has at least six inches of good thermal insulation.

Remove air conditioning window units

, or cover them well. 
Repair weather stripping and caulking.

Replace any cracked glass 

in your windows. 

Wrap your pipes

 to guard against heat loss and prevent them from freezing.
Warm Weather Conservation Tips
Change or clean your air conditioning filter monthly

 during cooling season to improve efficiency and the life of your air conditioner. 
Clear furniture away from air conditioning vents.

Cook on the grill

 to keep cooking heat outside the home. 

Install an attic fan

 — it can cool your attic by nearly 30 degrees! 

Install reflective window coatings

 to reflect heat away from your home. 

Keep your central air conditioner condenser in the shade

 and reduce your cooling costs by nearly 3 percent. 

Make sure the output of your air conditioner is right for the size of your room

 or house to ensure optimum efficiency and comfort. 

Open the doors inside your home

 to improve air circulation and the efficiency of your cooling system. 

Open windows on cool summer days and nights

. A good rule of thumb is not to open windows when the outside temperature is warmer than the inside of your house. 

Turn the air conditioner thermostat up to at least 78° or higher

, or use a programmable thermostat. Turn air conditioners off when no one is home.
Frequently Asked Questions
Below you will find five commonly asked questions and their answers regarding Oilheat's value, safety and efficiency.
Is Oilheat a good value?
Heating oil actually costs less than it did in 1980, when adjusted for inflation, and serves about 23 million Americans in 8.6 million households. For the majority of the last 20 years, Oilheat has been a great value in the U.S. Due in part to an increasing domestic supply, heating oil prices recently fell to their lowest level in more than 10 years! 
Is Oilheat safe?
Yes, Oilheat is Safe! First off, it's not flammable — if a person dropped a lit match into a tank of heating oil, it would go out as if it were dropped into water. Second, it's non-toxic and biodegradable, so homeowners who use Oilheat can rest assured that their family and property are safe. 
Is Oilheat clean?
Yes, Oilheat is Clean! Today's Oilheat burns 95 percent cleaner than it did in 1970. When properly adjusted and maintained, new Oilheat systems do not create dirt, soot or odors in the home. Plus, alternative blends like ultra-low sulfur heating oil and Bioheat® fuel is making today's Oilheat even cleaner!
Is Oilheat bad for the environment?
No. Oilheat is non-toxic, non-carcinogenic and biodegradable; therefore Oilheat does not pose a threat to the environment. In fact, thanks to the aforementioned Bioheat® fuel, today's Oilheat is Renewable and creating sustainable business for Ohio's farmers.
Is Oilheat efficient?
Yes, Oilheat is Efficient! Thanks to advances in Oilheat burner technology, modern Oilheat systems boast efficiency ratings as high as 95 percent. In 1973 the average fuel consumption was 1,294 gallons; now systems have reduced that number to a mere 800 gallons!
Consumer Programs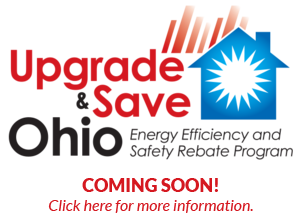 Tax credits, rebates and other financial incentives are available to Ohio homeowners for energy-efficient home improvements such as Oilheat system upgrades. Below are some of the tax credits and rebates currently available. You can find more through the Ohio DSIRE web listings.
Residential Energy Efficiency Tax Credit
Taxpayers who purchased qualified residential energy-efficient Oilheat systems between 2011 and 2016 may be eligible for a tax credit.
Oil furnace or hot water boiler with an AFUE of 95 or greater: $150
Oil water heater which has either an energy factor of at least 0.82 or a thermal efficiency of at least 90 percent: $300
In order to get the tax credit, you will need to file IRS Form 5695 with your taxes. In addition, you will need to keep receipts proving that you purchased the improvements and a copy of the manufacturer's certification. Accountants and tax advisors should also be able to provide more guidance.
City of Cincinnati – Residential Rebate Program
The City of Cincinnati and the Greater Cincinnati Energy Alliance have partnered to provide rebate incentives for homeowners in Cincinnati. To qualify for rebates, homeowners must receive a Home Performance with ENERGY STAR® energy assessment, which is provided at a discount price through Greater Cincinnati Energy Alliance. Total project must be a minimum of $1,000 to be eligible for rebates, and the maximum incentive that can be claimed through this program is $1,500. Homeowners can apply for rebates up to 50 percent on Oilheat upgrades such as:
HVAC (including boilers or furnaces): $500
Water Heaters:  $250
For more information, see the Greater Cincinnati Energy Alliance website. Greater Cincinnati Energy Alliance also offers a loan program for homeowners who purchase energy efficient equipment. 
ECO-Link
ENERGY STAR®-rated oil-fired water heaters, boilers and furnaces are eligible for the Energy Conservation for Ohioans (ECO-Link) program. ECO-Link is designed to provide reduced rate financing through partnering banks for Ohioans completing "whole home" weatherization and energy efficient improvements in their homes. 
ECO-Link provides the powerful lending resources needed to allow homeowners to enjoy a more comfortable home, realize the savings from energy efficient products, and develop Ohio as a leader in the developing green economy. For more information, visit the Treasurer of Ohio's ECO-Link webpage for homeowners.
Ohio Home Weatherization Assistance Program (HWAP)
The Ohio Home Weatherization Assistance Program (HWAP) is a no-cost energy assistance program designed to increase the energy efficiency of dwellings owned or occupied by income-eligible Ohioans, reduce participants' household energy expenditures and improve participants' health and safety. HWAP is federally funded by the U.S. Department of Energy and provided to Ohioans at no cost for customers whose annual household income is at or below 200 percent of the federal poverty guidelines. Ohio's HWAP is administered through the Ohio Development Services Agency.
Home Energy Assistance Program (HEAP)
The Home Energy Assistance Program (HEAP) is a federally funded program administered by the Ohio Development Services Agency. It helps eligible Ohioans pay their home energy bill. The benefit is applied directly to a customer's bulk fuel bill. The benefit amount is determined by the number of people in the household, the heating source, and the region of residence. For more information, or to see if you qualify, visit the Ohio Development Service Agency's HEAP webpage.
Winter Crisis Program
A component of HEAP, the Winter Crisis Program provides assistance to eligible households that are disconnected, threatened with disconnection, or that have less than a 25 percent supply of bulk fuel in their tank. The program runs from November 1 until March 31. Last year, there were more than 130,000 households served by the Winter Crisis Program. For more information, or to see if you qualify, visit the Ohio Development Service Agency's Winter Crisis Program webpage.